Darkest AFK – Idle RPG Battler is an engaging role-playing game that will take players into a dark and fierce world. You will command an army of many heroes and lead your army of heroes through turn-based battles with monstrous and powerful monsters. Good strategies and a good commander can help the army go into danger and conquer all enemies, become the best commander.

INTERESTING ROLLING
The vast majority of role-playing games on the market today are fast-paced and require players to be highly focused on winning. However, if that genre doesn't suit you or you want a challenge with a more idle game, then try Darkest AFK right away; this game will not let you down.

UNIQUE CHARACTERS
Darkest AFK has dozens of different characters waiting for you to discover. Each character has beautiful interfaces along with different awesome skills. Collect as many characters to be confident in every battle. Before starting the matches with your opponents, the game will provide you with a comparison system of your strength stats versus your opponent. This is when you need to have smart strategies and bring in the right opponents to deal with the enemy's skills. If you know the enemy and know yourself, you need not fear the result of a hundred battles, studying your opponent is a great way to help you adjust everything and go to victory.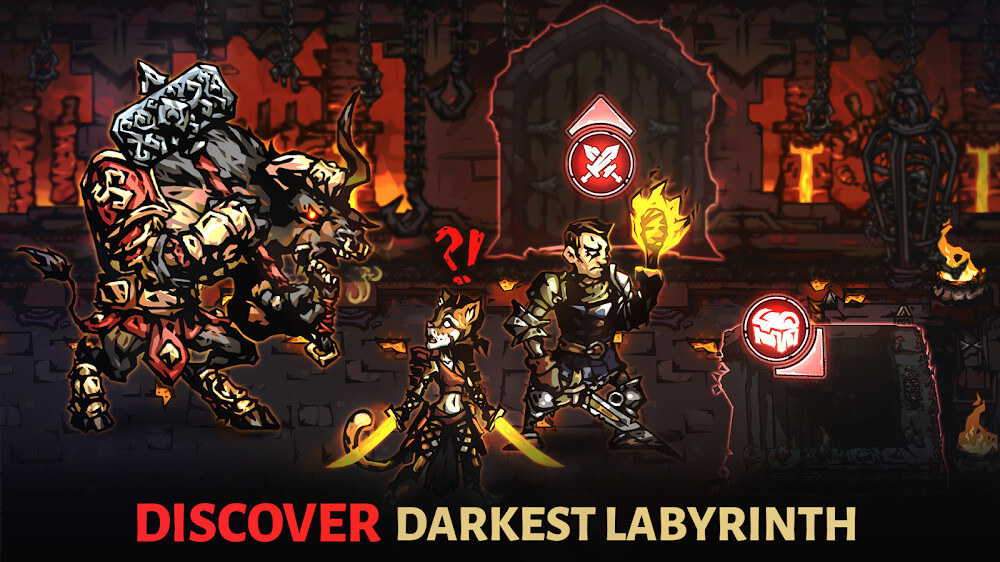 Besides, you can upgrade your characters with equipment. Equip your superheroes with the best weapons and state-of-the-art skins and accessories to boost damage and defense. All items help to increase stats, and not all are the same; the best is what you should prioritize, but if you still don't collect enough, temporarily equip what you think best at that time.

SOLID GRAPHICS
2D graphics but vividly depict the brutality and desolation of the wars. With a few simple colors like red and black, the game is made up of a dark color and a gloomy atmosphere. The details are not depicted too elaborately, but you will quickly feel the majesty of the heroic characters, the fear of the monsters, and the highly refreshing combination.