Fan Of Guns
Play for free with your friends a first-person pixel online shooter
| | |
| --- | --- |
| Name | Fan of Guns |
| Publisher | Vanguard Gaming Studio |
| Genre | Action |
| Size | Varies with device |
| Version | 1.0.97 |
| Update | January 17, 2022 |
| MOD | Free Rewards |
| Content Rating | PEGI 12 |
Download
Fan of Guns Mod Apk is an FPS game that integrates many exciting game modes today that you can find. These modes offer different goals and require skills that the player is forced to use. At the same time, the amount of terrain and weapons make up specific tactics where players will try to become winners against other players.
FPS BATTLES IN THE PIXEL WORLD
You will enter the challenging gun battles in Fan of Guns with many game modes that you can participate in. At the same time, this is a pixel world with impressive designs that help players easily observe the surrounding elements. Different maps can be changed to change the experience for players and require them to take time to get used to the characteristics of these levels to perform different attack strategies.
In this game, you can perform your character's actions through precise controls that you can use. You will go through many different matches and gradually get used to this control method. At the same time, some levels will require control skills; if you have quick hand movements and aim your opponent quickly, you will be able to win the game. Many modes are waiting for you to explore.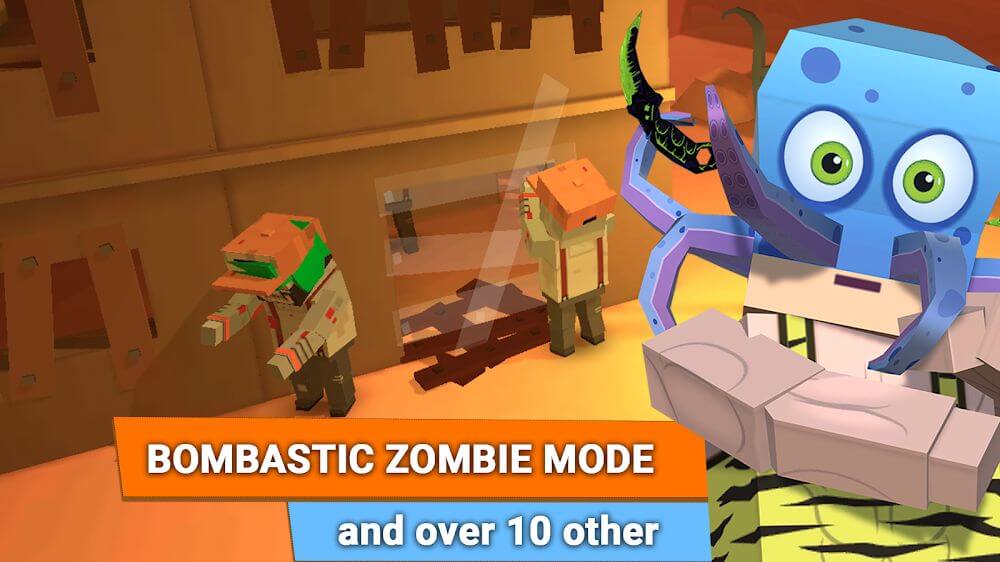 MANY INTERESTING MODES THAT YOU CAN EXPERIENCE
In Fan of Guns, players can find various game modes with unique gameplay to play with other players. The first mode that you will find is team fight, and its mechanism is straightforward; you will enter a field with your teammates. In it, you will try to score as many points as possible in a predetermined amount of time. Therefore, it will help you show off your shooting skills with the equipment you have.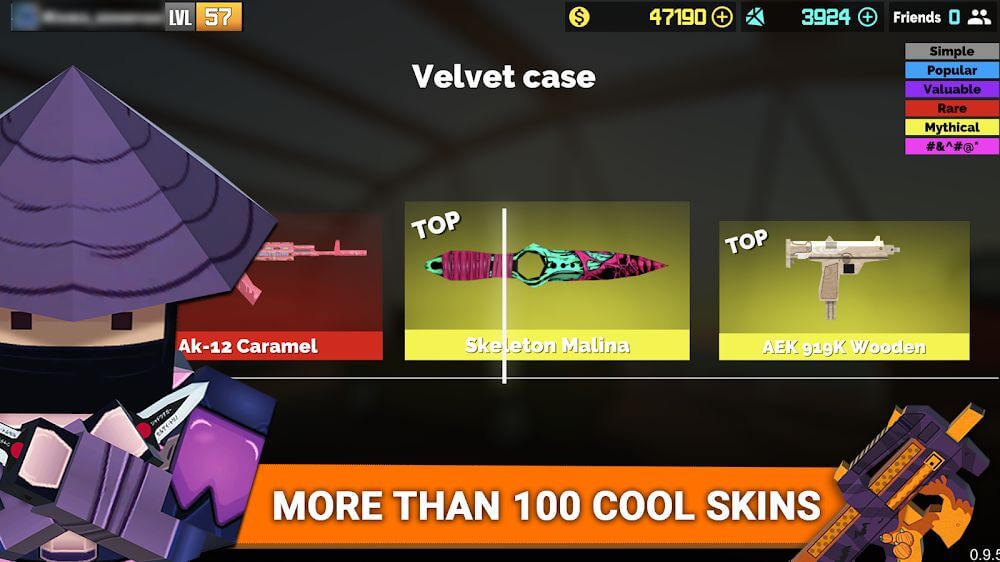 The next mode that will make you unable to take your eyes off it is zombie survival, and again, the players will be divided into a team of soldiers and a team of zombies. At the start of the game, some players will become infected and start attacking other surviving players. With just one touch, the people you affect will be completely infected, but they will have a gun to repel you at any time. You will choose the right angles to ambush the enemies you see.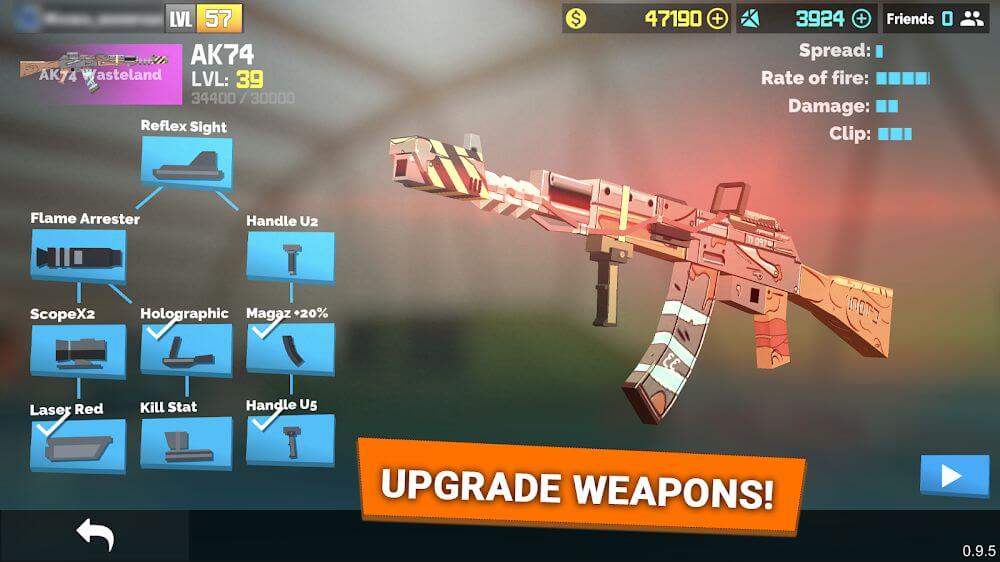 If you are bored with gun battles, there are also some other game modes that you can try out, like hide-and-seek. One character will use the gun, and the other will hide. The hider can transform into an object and needs to move smoothly out of sight of the enemy. Alternatively, you can also join the hand-to-hand mode, where melee lovers can use their favorite knife to take down their opponents.
THE NUMBER OF DIVERSE WEAPONS THAT YOU CANNOT IGNORE
If you are a lover of FPS titles like Fan of Guns, you will be impressed with the weapons it can bring you. The game has many different types of weapons and many options for each type to find which you feel is suitable and contribute to winning the level.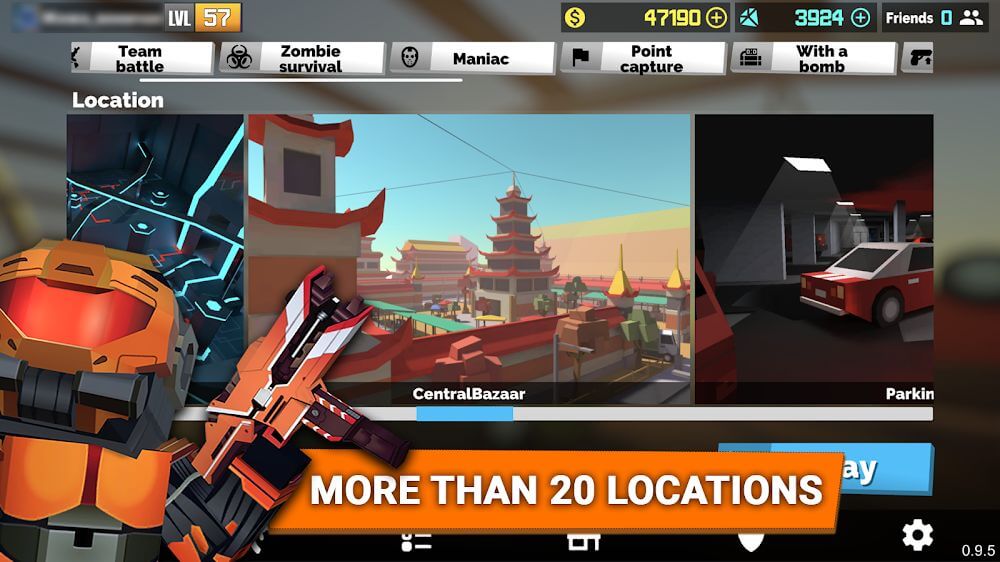 A pixel world with FPS gameplay that completely captivates players with:
A world of diverse terrains and challenges urges players to explore and compete with each other.
These modes will change the player's experience as they all have unique, interesting points.
Players will overcome many different challenges and gradually master their controls and reflexes in the game.
The modes require players to have various skills, from movement to weapon skills, in different situations.
The number of weapons is entirely diverse, and you can find the right weapons for your skills and become fearsome in battles.
Download Fan Of Guns
Download (Varies with device)
You are now ready to download Fan of Guns for free. Here are some notes:
Please check our installation guide.
To check the CPU and GPU of Android device, please use CPU-Z app